The communities that make up the South Coast of Massachusetts are each unique and special in their own ways! Here are some highlights and useful information for New Bedford, Dartmouth, Acushnet, Fairhaven, Mattapoisett, Marion, Rochester, and Westport.
NEW BEDFORD
From arts to culture, to ethnic restaurants and budding new business, New Bedford is a thriving city by the sea that offers more affordability and amenities than any neighboring South Coast location.
New Bedford is well-known for its illustrious history as one of the richest whaling capitals in the country. After the demise of the industry, New Bedford changed into a manufacturing giant, but the traces of seafarers still remained. Today, the city boasts a large working waterfront, nautical shops nestled on cobblestone streets, a dynamic culinary scene, and a fast ferry to Martha's Vineyard.
While a few manufacturing giants still do business in New Bedford, the city has taken on a more diverse business landscape. Downtown hosts restaurants, banks, stores, and offices. The New Bedford Industrial Park, home to larger businesses, many of which are high technology, is expanding. Nearby University of Massachusetts at Dartmouth is also flourishing in New Bedford, having located their School for Marine Science & Technology (SMAST) in the city's South End.
Not to be outdone, the city arts scene continues to thrive. AHA!, New Bedford's free Downtown Gallery Night program, is held on the second Thursday of each month. Events are put on by a collaborative team of more that 15 New Bedford museums, galleries, arts organizations, merchants, restaurants and the National Historical Park. Downtown also boasts several art galleries and the Zeiterion Theatre, a performing arts center built in the early 1920s that features symphonies, ballets, and performances by such artists as Wynton Marsalis and Lily Tomlin.
Visitors and residents alike can learn more about New Bedford's rich history by taking a stroll through the expansive downtown. The New Bedford Whaling Museum is an educational, entertaining experience for all ages, and Seamen's Bethel, the original "Whaleman's Chapel" in Herman Melville's Moby-Dick, is open to the public for worship and tours. These two historic landmarks are located in New Bedford's Whaling National Historical Park. The park encompasses 34 acres spread over 13 city blocks and includes a visitor center, the New Bedford Whaling Museum, the Seamen's Bethel, the schooner Ernestina, and the Rotch-Jones-Duff House and Garden Museum, a 28-room Greek Revival mansion built for whaling merchant William Rotch, Jr. in 1834. The museum offers permanent and changing exhibits, lecture series, programs, and events.
Despite a staggering array of offerings, from stores, private schools, entertainment, zoo, parks, and beaches, New Bedford remains one of the most affordable places to call home. Buyers can choose from former homes of sea captains to multi-families with money-making potential.
New Bedford is a wonderful place to live, work, & play everyday!
For more information on New Bedford, check out this great story that aired on The Chronicle,
a news program on WCVB (Channel 5, Boston)!

GENERAL INFORMATION:
FY2019 Tax rates: Residential $16.47 per thousand; Commercial, Industrial $34.84 per thousand
2017 population: 95,120
Total Area: 24.1 square miles
Land Area: 20 square miles
DARTMOUTH
Dartmouth is a rural town offering a wonderful array of recreational activities and a perfect place to enjoy nature during the changing seasons. The Lloyd Center for Environmental Studies, located off the beaten path in South Dartmouth, offers hiking trails and free admission to the building, as well as art classes, bird walks, and more. A scenic drive along the winding back roads reveals sprawling farms and quaint historical buildings. Dartmouth was settled in the 1650s and incorporated in 1664. The first settlements were in the areas of Russells Mills, Slocum Neck, and Smith Neck, called Nomquid by the Indians. The Quakers had influence here and built a handful of meeting houses, including the Apponagansett Friends Meeting House, which still stands today.
Dartmouth is comprised of over 60 square miles, making it the fifth largest town in the Commonwealth of Massachusetts. The landscape consists of a scenic coastline that borders Buzzards Bay, coastal estuaries including the Slocum River, Little River, Apponagansett River and Clark's Cove, and wooded areas punctuated by open space. Residents can have their home in the woods or their seaside retreat in Padanaram. Often referred to as Padanaram Village, this section of Dartmouth boasts a village feel, with cozy restaurants, small shops and narrow streets. Padanaram is well known for its marinas and elegant homes and hosts hundreds of affluent summertime residents every year. There are several nooks for swimming as Dartmouth boasts both private and public beaches, including the Demarest Lloyd State Reservation.
Also attractive is Dartmouth's educational and commercial offerings. Dartmouth boasts several private schools, including Friends Academy for students starting in kindergarten through eighth grade and Bishop Stang High School. The UMass Dartmouth campus continues to offer an outstanding education at an affordable price.
Commercially, Dartmouth offers everything a consumer could want, from major retailers such as Macy's, Target, Lowe's, Best Buy and more, to service firms, mom and pop stores and an enormous array of restaurants.
There are many organizations dedicated to the betterment of the town. The Friends of the Dartmouth Libraries recently held their annual Book Sale, including the sale of rare and collectible books, and the Dartmouth Natural Resources Trust's often hosts fun themed fundraisers. Preservation of the town's rural character and agricultural resources is a top priority. The town has bought and protected many parcels of land and farms with Community Preservation Funds and other town-sponsored programs.
Dartmouth has expanded in recent years. The number of residents who call Dartmouth home has risen from 27,244 in 1990 to 34,482 in 2015. With Dartmouth real estate you will find a variety of opportunities available. Dartmouth offers residential homes, new construction, condominiums (condos), adult living communities (55+ communities), retirement homes and facilities, land, waterfront properties, and multi-family investment properties as well as vacation homes, farms, equine and country properties in a quaint, picturesque small town atmosphere.
GENERAL INFORMATION:
FY2019 Tax rates: Residential $9.93 per thousand; Commercial, Industrial $16.13 per thousand
2017 population: 34,336
Total Area: 97.5 square miles
Land Area: 60.9 square miles
ACUSHNET
Acushnet is a friendly quiet town with a population over 10,000 residents. Located in Bristol County, Massachusetts, this town was originally an agricultural community embracing the headwaters of the Acushnet River. "Acushnet" comes from the Wampanoag "Cushnea" meaning "as far as the waters," originally designating the fact that the Indian tribe which sold the land to the Puritans inhabited the lands leading up to the river.
Through the 1800s, the town was the site of water-powered factories and boat yards; in the 1990s, the town hosted construction, manufacturing and agri/aquaculture industries.
Acushnet has may wonderful historic sites and buildings, including The Long Plain Museum. Located in the former Long Plain Schoolhouse (1875) the museum has an amazing 1875 schoolroom kept just as it looked over 130 years ago. The Meetinghouse (1875) is the oldest Friends house of Worship in the South Coast and is listed in the National Register of Historic Places. The historic Free Public Library of Acushnet is a classical building constructed from stones gathered from fields and farms in Acushnet.
Today you will find many miles of winding, country roads with rolling green hills, small ponds, and streams. Acushnet is a very comfortable town to call home and it has been selected by Banker and Tradesmen as the top affordable town to live in on the South Coast. Residents take great pride in the town's schools, openness, and feeling of family. Students currently attend elementary and middle school in Acushnet before choosing a high school in nearby Fairhaven, New Bedford, or Old Colony Vocational in Rochester. Students and adults can find many activities in Acushnet, including teeing it up at Acushnet River Valley Golf Course or participating in several town-sponsored sports leagues.
In 1910, Acushnet Process Company (now the Acushnet Company) was founded in town, and continues to be one of Southeastern Massachusetts's most successful industries. Acushnet Company owns Titleist, the maker of one of the best known golf balls!
What is less well known, is that Acushnet is home to a variety of the juice-filled, succulent, Georgia peach, known here as "the big white peach." One bite and you become a lifelong fan! It goes without saying, that the apple harvest and locally made ciders ought not to be missed. The annual Apple/Peach Festival is one of the best agricultural fair/festivals in the state. In addition to the freshly picked produce, the women of the community bring their best homemade peach, apple, & custard pies and pastries to market. This is an event well worth traveling for!
GENERAL INFORMATION:
FY2019 Tax rates: Residential $14.18 per thousand; Commercial, Industrial $18.20 per thousand
2017 Population: 10,544
Total Area: 19 square miles
Land Area: 18.4 square miles
FAIRHAVEN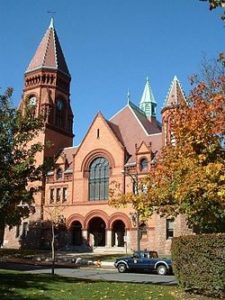 Fairhaven's location by the sea gives this small town a nautical feel, but it's the sense of history and community that define Fairhaven for residents.
A massive harbor and substantial coastline shaped the town's future as a whaling and fishing port. The whaling trade brought wealthier residents to Fairhaven and its neighbor, New Bedford, but it was Fairhaven that reveled in the generosity of resident Henry Huttleston Rogers. Fairhaven's center is renowned for its architectural masterpieces donated by town benefactor and Standard Oil Co. millionaire Henry Huttleston Rogers during the whaling and fishing boom.
Today historical walking tours given by the Office of Tourism take you through many of the public buildings donated by Rogers and through Fort Phoenix – with the latter tour being guided by a colonial militiaman. Fairhaven's history is still very much alive, but residents remain dedicated to the town's future. Civic organizations and groups constantly rally for positive changes in Fairhaven.
Fairhaven's history stems beyond the whaling days, when the town's shoreline was used to fight naval battles. Shortly after 1775, a fort was built and outfitted with eleven cannons. The fort was destroyed by a British invasion in 1778 but rebuilt and named Fort Phoenix; it was manned throughout the Civil War.
The community spirit fostered by residents' efforts is evident throughout the year, but particularly in the summer when Fairhaven comes alive with a number of events. One of the most well-known, the Homecoming Day Fair sponsored by the Fairhaven Improvement Association, features 175 booths of arts and crafts and food vendors, live entertainment, art show and children's activities.
In addition to actively promoting its history, the town has made a future for itself in commercial pursuits as well, and Fairhaven has kept building concentrated along Route 6. Shopping plazas house department stores, grocery stores and restaurants, in addition to a smattering of independently owned stores. Many of the Fairhaven businesses are mainstays and have been in operation for many years.
Fairhaven's real estate is eclectic. Because of its history, it is not uncommon for a home built in the 1800s to go on the market. But most homes in Fairhaven are of modest size, tucked away in family-friendly neighborhoods shaded by large oaks.
GENERAL INFORMATION:
FY2019 Tax rates: Residential, $11.67 per thousand; Commercial, Industrial $23.47 per thousand
2017 Population: 16,055
Total Area: 14.1 square miles
Land Area: 12.4 square miles
MATTAPOISETT
A small seaside village community with about 6,500 year-round residents, Mattapoisett typifies leisure and relaxation. From its harbor on Buzzards Bay, to sandy beaches, to historic homes and cozy restaurants, Mattapoisett offers residents a setting to truly enjoy what living on the water has to offer.
Mattapoisett's harbor makes the town a premier boating spot. During the summer there are boats of every size and shape moored to the docks, and the beaches offer swimming and sunbathing. A few are private, shaded by trees, sand dunes and sea grass; but both private and public ones are beautiful and perfect for a day of sunning and swimming with the family or perhaps fishing or simply walking.
Mattapoisett's famous Shipyard Park provides excellent views of the Atlantic and, along with Mattapoisett Wharf, is a community hub. In the summer, claim a piece of the park's lawn and enjoy a Mattapoisett Band night. Live music, square dancing, teen dance nights and classic car shows light up the park. The summer also brings a host of annual festivals and events. Harbor Days in July features crafters and artisans, live entertainment, a seafood roll and chowder dinner, a Lobsterfest, and more. Another annual event, the Mattapoisett Road Race on the 4th of July, is a five-mile course that winds through the village, along the waterfront, around Ned's Point Lighthouse and back to Shipyard Park at the town wharf.
Mattapoisett is well-known for its New England "village" feel. The town was incorporated in 1857, and the first settlements in the town were seasonal. The town traded with Nantucket, Newport, New York and Savannah, and a shipping complex was developed at the head of Mattapoisett harbor in the first half of the 18th century. By 1855 there were 16 whaling ships in operation. Mattapoisett eventually became one of the most important shipbuilding sites on the East Coast. Many of the whaling ships that sailed from New Bedford were crafted in Mattapoisett, as was "The Acushnet" on which Herman Melville sailed.
For a glimpse into Mattapoisett's past, visit The Shipyard Inn. The inn was built in 1799 by Joseph Meigs, a master carpenter in the shipyards. He used the building as his home, a tavern, and a general store. For local residents and visitors alike, it has always been a great place to stop for a drink or a bite to eat after a day of sightseeing and remains the oldest seaside tavern in the country still operating in its original structure.
Mattapoisett is a family-friendly town. After-school sports programs offered by the Mattapoisett Recreation Department seek to keep the youngest residents active. Students attend elementary school here, before continuing their studies at Old Rochester Regional junior high and high school, which serves the towns of Mattapoisett, Marion and Rochester. Additionally, private schools in neighboring towns, including Tabor Academy in Marion, offer more education choices.
Mattapoisett homes hold their value, largely due to the town's small size and its location on the bay.
GENERAL INFORMATION:
FY2019 Tax rate: Residential, Commercial, Industrial $13.21 per thousand
2017 population: 6,330
Total Area: 24.2 square miles
Land Area: 17.4 square miles
MARION
Marion is a delightful residential town, felt by its residents to have rare natural beauty and charm. The small town character, blended with the flavor and benefits of a seacoast community with lovely residential neighborhoods and modern conveniences, makes Marion an ideal town for year round living. Recreation opportunities are plentiful and Sippican Harbor hosts a variety of waterfront programs, including swimming at the town beaches, pleasure boating, summer camps, and fishing. The Beverly Yacht Club hosts a number of regattas each summer, as well as the noteworthy Marion-Bermuda race. There are golf courses and indoor and outdoor tennis courts, while Tabor Academy periodically opens up its hockey rink to the public during the winter.
Marion's roots go back to 1679, when the town was first settled as a village known as Sippican, a part of Rochester. Rochester, Mattapoisett, and Sippican, widely separate villages under the domain of Rochester, gradually developed different interests and economies. These factors led to independence for Sippican, which was renamed Marion in honor of the Revolutionary War hero, Francis Marion, in 1852. Today it has a stable year round population with a moderate summertime increase. Over the years, the heterogeneous population has worked hard to preserve Marion's rich historic traditions.
GENERAL INFORMATION:
FY 2019 Tax Rate: Residential, Commercial, Industrial $11.03 per thousand
2017 Population: 5,107
Total Area: 26.1 square miles
Land Area: 14 square miles
ROCHESTER
Rochester is located in southeastern Massachusetts, bordered by Lakeville and Middleboro on the north, Wareham and Marion on the east, Mattapoisett on the south and Acushnet and Freetown on the west. Rochester is about 19 miles northeast of New Bedford; 50 miles south of Boston; 49 miles east of Providence, Rhode Island; and 227 miles from New York City.
While buyers continue to vie for country homes in quiet, pristine surroundings, Rochester is a hidden gem that remains small in size – just over 5,000 residents — and big in beauty and open space.
Much of the activity centers around Rochester's Town Common, the town hall, First Congregational Church and the Plumb Library. The Plumb Corner Mall sits across from the center, and includes a variety of small shops; the Mall was designed in keeping with the architecture of the rest of the Common. At the Plumb Library, there are events catering to all ages, such as this year's Summer Reading Program. Rochester is easily accessible by highway, so residents have quick and easy access to neighboring stores, restaurants and services.
Civic-minded organizations are abundant in Rochester. The Rochester Green Ways is an ad hoc committee, with a goal to restore the trees that once lined the roads of Rochester. Nearly 100 years ago, elms arched over the roads but died, and the Green Ways hopes to continue replacing the elms with 5 or 6 species of trees. A partnership between Marion and Rochester to preserve land is active year round.  The Trustees of Reservation, the Rochester Land Trust, and the towns of Rochester and Marion, and the state have preserved more than 500 acres in Rochester and Marion.
The summer is a great time to get out and enjoy the natural beauty of Rochester. A good game of golf can be had during any season at the Rochester Golf Course. Mary's Pond is among the town's most picturesque areas, flanked by large pines and a sandy beach, and is an old-fashioned watering hole. One of the year's most popular events is the Rochester Country Fair. The multi-day fair features children's events, arts and crafts, a parade, shows, food booths, vendors and a lot of fun.
Students attend elementary school in Rochester, before heading off to Old Rochester Regional Junior High and High School, which the community shares with Mattapoisett and Marion.
FY2019 Tax Rate:  Residential, Commercial, Industrial $14.00 per thousand
2017 Population: 5,575
Total Area: 36.4 square miles
Land Area: 33.9 square miles
WESTPORT
Westport, so named because it was the westernmost port in the Massachusetts Bay Colony, was first settled in 1670, as a part of the town of Dartmouth by members of the Sisson family. The river, and the land around it, was called "Coaksett" in the original deed. The name, now spelled "Acoaxet," lives on in the southwestern community along the western branch of the Westport River. Like many areas, Westport was affected by invading Wampanoags during King Phillip's War. Several small mills were built along the Westport River, and in 1787, the town, along with the town of New Bedford, seceded from Dartmouth. There were several cotton mills along the river, the largest of which was at the junction of the river with Lake Noquochoke on the Dartmouth town line. During the Second World War, a coastal defense installation was raised on Gooseberry Neck.
The town is now mostly residential, with a large farming community and also an active artistic community. Horseneck Beach State Reservation, located near Gooseberry Neck Island, is a popular summer destination for many in the area.
FY2018 Tax Rate:  Residential, Commercial, Industrial $8.17 per thousand
2015 Population: 15,910
Total Area: 64.4 square miles
Land Area: 50.1 square miles