July on the South Coast — what a wonderful time of year to live here! Temperatures are usually more comfortable for us than for our neighbors to the north and west. There are festivals, feasts, and fun, fun, fun! Best of all, we have warm water beaches galore! Here's just a sampling of some of our favorite beaches in the area:
Horseneck Beach in Westport
This is one of the biggest beaches around and has a number of amenities to go with it: bathhouse, concessions, wooden walkway to the beach, lifeguards, and even a 100-site campground. Run by the Massachusetts State Park system, Horseneck is a 2-mile long sandy/cobblestone beach and an estuary habitat, resulting in excellent birding.  The beach is known for its waves and steady breezes (great for kites!).  You must pay to park at Horseneck Beach (DCR state parks pass also accepted). Nearby Gooseberry Neck Island has walking trails, a boat ramp, and remnants of two World War II observation towers.
Jones Park in Dartmouth
Jones Park offers a sandy beach area, lifeguards, and bathhouse, but also has a playground, horseshoe pits, and a softball field. Unlike Round Hill Beach, which is only open to Dartmouth residents, the general public can enjoy Jones Park. It is important to know that this area is only open until 5 PM and there is a parking fee. Also notable in Dartmouth is Apponaganset Park and Beach, which hosts its Summer Concert Series every Wednesday night during the summer.
East Beach in New Bedford
East Beach on East Rodney French Boulevard benefits from a wonderful location. This sandy beach is not far from downtown New Bedford and is near Fort Taber, the 47-acre historic military base (dating to the Civil War) and public park that has its own water access, as well.  East Beach has calm waters, lifeguards, bathrooms, outside showers, and beach volleyball courts. It also boasts a great view of the Butler Flats Lighthouse.  There is a fee for daily parking or residents can obtain a parking pass.
West Island Beach in Fairhaven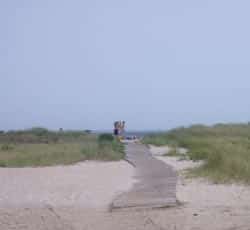 The beach at Fort Phoenix is well-known and is a fun place to explore the fort's remains. However, the fort, the huge rocks, the volleyball courts, playground, and tables make it a better picnic outing than beach day (though the free parking is nice). For a more rustic beach experience, try West Island Beach.  This calm water beach is remote and peaceful, but it does not have any concessions or showers.  There is a fee for parking (or with resident sticker).
Mattapoisett Town Beach
Located adjacent to the town's village, the Mattapoisett Town Beach is a perfect place to visit while shopping or eating in the village. This beach offers lifeguards, a beach house with restrooms, showers, and changing rooms. The kids will love the swing set and fishing from the dock.  There is a fee for daily parking; residents need a sticker.
Silvershell Beach in Marion
Silvershell Beach is loved by residents of Marion for its calm waters, beautiful views of Sippican Harbor, basketball court and playground, nearby grassy field, and concession stand. However, only Marion and Rochester residents are allowed to park at the beach (with sticker).
Onset Beach in Wareham
This wide, soft sandy beach in quaint Onset area offers calm waters and a wonderful view of Onset Harbor. Local restaurants are easily accessible or concessions are available. During the summer, there are concerts at the bandstand and kayak and stand-up paddle boarding rental is available on the beach. There are lifeguards, bathrooms, and a metered parking lot (or park at meters on nearby streets).