What i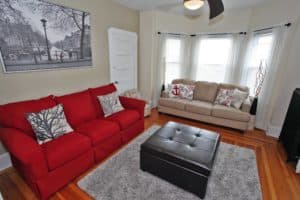 s home staging? It means different things to home sellers in different situations, but essentially it is the act of making a home look visually appealing to buyers. For some it might be a matter of cleaning and decluttering; for others, it involves a major overhaul.  In the next few blog posts we'll take a closer look of the various aspects of the broad term "home staging."
Cleaning and Decluttering
According to Lori A. Nery, Owner and Broker for Coastal Realty in New Bedford, Massachusetts, every seller should thoroughly clean and declutter their home before putting it on the market to help it sell for a higher value in a quicker time frame. "Before thinking home staging, think cleanliness!" exclaims Lori. "It has to be clean and neat. If care has been taken to dust, vacuum, scrub bathrooms, pick up clutter, and open up aisles for easily moving around the house, the sellers are on the right track!"
Weeding out the game closet, organizing the basement, discarding unused yard tools, these are all the types of things that help buyers see the house instead of the stuff. "When prepping a home to list for sale, I advise my clients to use the opportunity to start packing items that are not necessary," explains Mathew J. Arruda, REALTOR® at Coastal Realty. "Pack clothes you won't be using during this season or next. Pack away some decorations, pictures, etc. Thin things out a bit so that potential buyers can see the home better." In other words, tucking away personal items and that extensive snow globe collection will all help buyers see the house as their potential home rather than a place they are visiting.
Decorating
Sometimes cleaning isn't quite enough and a special touch is required to maximize sales price and minimize selling time. Judith Frenette, REALTOR® at Coastal Realty, is known for her attention to detail and sense of style.  She recently brought both of those skills to a listing of hers. "I needed to sell this property quickly while the tenant was away," recalls Judith. "The tenant's style of decorating and his housekeeping skills left a lot to be desired. The house was only 4 years young. My goal was to make it look as fresh and appealing as it did on day one!"
Once the tenant left for vacation, Judith brought in the staging props and whipped it into shape. "Personal items and clutter were neatly tucked away, furniture was rearranged, beds were topped with crisp, clean comforters and accent pillows. Props, such as artwork, vases, bathroom guest towels, and fresh flowers, were added to every room to give them that HGTV feeling. A house cleaner was hired and curb appeal was boosted by a landscaper who gave the lawn a fresh cut and mulched the flower beds. I even added a door wreath, potted plants, and a lantern to the front porch to give it that 'welcome home' feeling."
All this hard work paid off, fortunately. Three offers were received after the open house and the accepted offer was over the asking price. Nearly every visitor commented that the house was beautifully decorated. According to Judith, "Staging definitely helped to sell this home because it brought the house back to its youthful appearance. I truly feel the staging was a driving force in obtaining the over-asking price. Not every buyer has the ability to see the possibilities in a home, so it's important to address a potential issue from the get-go to avoid negative feedback on the property."
Be sure to check Coastal Realty's "News & Tips" blog over the next couple of weeks for more insight about the real value of home staging!  Next up… intensive home staging and staging vacant properties!