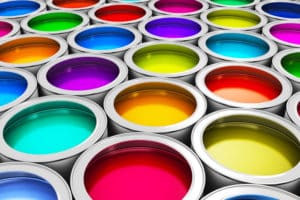 Effectively using color throughout your home can showcase your personality while tying together the whole space.
Use a Thread of Color
Give each room its own color personality while ensuring a cohesive feeling by using a single hue as a theme that runs throughout.
Select Your Favorite: If you love lots of color, you can still achieve flow by choosing one hue to be a unifying thread that runs from room to room. Usually this unifying element is the woodwork — baseboards, door and window frames, and molding at the ceiling.
The connection can be more subtle, too, such as a recurring color in the fabrics, accessories, and furniture in each room.
You also can achieve a feeling of continuity by limiting your palette to two or three colors that you use in different amounts and applications throughout the house. Each color can be used in different values and intensities to produce a wide range of effects.
Crosslink with Color
New houses often feature kitchens and great-rooms that connect physically and visually, separated only by a partial wall or counter. To paint each area a different color, use the partial wall or peninsula as the dividing line.
Unify the two areas by using the same trim color throughout, and reinforce that connection by bringing touches of each area's color into the other. For a smooth transition, choose two colors that are closely related and similar in value.
What's Underfoot
If you paint adjoining rooms in strongly contrasting colors, connect them by using flooring or area rugs that include both colors.
The wall and rug hues don't have to match exactly; one can be slightly darker or lighter than the other, and the eye will still perceive them as closely related.
Unify with White Trim
Painting all of the trim throughout the house the same color of white is a no-fail way to create a sense of flow from room to room.
There are many shades of white, so select wall colors first, then choose a white that works with all of them. A sour-cream white contrasts crisply with bold colors and harmonizes with softer ones.
In developing the color scheme for your house, select colors that create the mood you would like to achieve. Link an area in your home with wallpaper to emphasize the area's openness and the way the spaces flow into one another.
White trim ensures that these spaces look connected, and reinforces the effect with subliminal cues or markers to make people feel anchored as they move through your house.
Choose a Limited Palette
Open floor plans, whether in a suburban home, a condominium, or an apartment, allow architects to maximize the feeling of space without increasing square footage. That doesn't mean you have to paint all of the connecting spaces one color.
Give each area its own personality and achieve a unified look by choosing two or three colors that work well together and use them in varying amounts from room to room.
Try and Try Again: Getting just the right color may require several trips to the paint store until you get the right shade. It's important that the wall colors in adjoining spaces be of equal intensity so they balance visually. In the upholstery, rugs, and accessories, however, the color scheme can play out in a range of tones to create variety and interest.
Play with Light
It's a simple fact that light changes the appearance of any given color.
Take the same can of yellow paint and apply it to two rooms, one that receives little natural light and another that's flooded with sunshine, and it will look like two different colors.
To achieve a feeling of continuity and still give each room a subtly different feeling, exaggerate this effect: Choose two closely related hues and apply the lighter one to the sunniest space, imbuing it with a sunny feeling all day long. This works well for L-shape rooms, where one leg of the L is the living area and one leg the dining area.