In Part 1 of this 3 part series on home staging we looked at the importance of cleaning, decluttering, and decorating your home when preparing it for sale. In this next post, more intensive home staging, working with vacant properties, and the lengths Coastal Realty REALTORS® will go to in order to help clients prepare their homes for sale are discussed.
Home Staging
In some cases even more than cleaning and decorative touches are required. REALTOR® Jane Seiders of Coastal Realty recently had a listing that was a wonderful house in a high-demand neighborhood, but the home wasn't going to show well. "There was so much furniture in the living room and that was the first room you walked into," explains Jane. "I knew I could get the right buyers to come to see it, but the first impression of that over-stuffed room might prevent them from being receptive to the house."
Jane consulted with the seller and they came up with a plan. "We moved some of the furniture out of the living room and I brought in a piece or two of mine that was more appropriate in size. I put down a bigger rug and moved some of the cabinets and other items to different rooms to make the first impression welcoming and appealing. Then we added some paintings and throw pillows and other touches throughout the house to soften this 'bachelor pad.'" Before and after photos show the transformation:
BEFORE: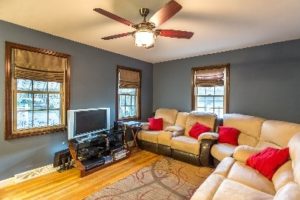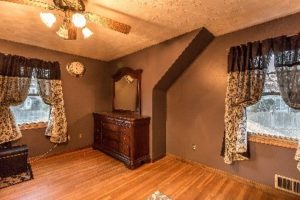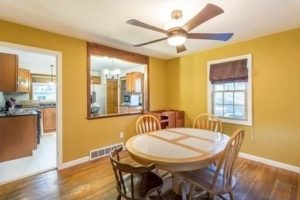 AFTER: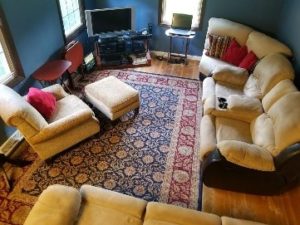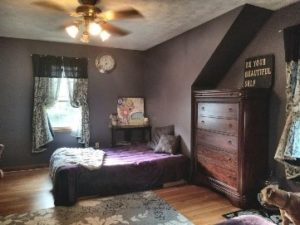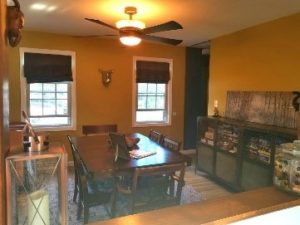 In this instance, the owner had already done a great job of cleaning and preparing this property for sale, including re-painting all of the walls. However, few people would set up the living room the way he did, so adjustments were needed. Comments on the newly laid out house included "oos" and "ahs" when buyers came in the door and even offers to buy the furniture! The owner was very pleased with the results.
This level of home staging is intensive and not comfortable for all owners, but for motivated sellers, re-arranging – or even bringing in new – furniture and other adjustments can help meet their goals more quickly.
Staging Vacant Properties
Vacant properties can benefit from home staging so that buyers can see the full dimension of the rooms. It doesn't have to be a full bedroom or complete dining room set, notes Lori. Rather "a couch with a table and plant can help define how large a room is," she says. "It is human nature to rely on relative measurements. If there is nothing there to compare with, then how can you know how much it will hold?"
In addition, without any furnishings, buyers may focus on negative aspects of the property, such as a crack in the wall or worn floors. Strategically placed items can draw an eye away from a blemish and highlight a special feature, like a bay window, woodwork, or the size of the room. "We're not trying to trick anyone," laughs Lori. "All buyers should do a home inspection so if there is a major problem they'll know about it. But you want buyers to see all aspects of a listing and not get closed off to the possibilities over something small."
We hope you will come back and read Part 3 of this series on home staging to learn about the intersection of staging and professional real estate photography and how they impact the online marketing of your property,