In Part 1 of this 3 part series on home s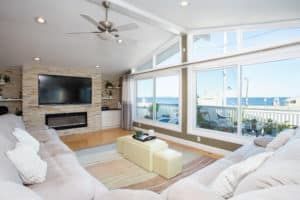 taging, we looked at the importance of cleaning and decorating your home when preparing it for sale. In Part 2 , we discussed more intensive home staging and staging vacant properties. In this final post of the series, we explain the realities of home staging in the digital age.
Showing Off the Staging
Nowadays a buyer's first impression of a home often comes via a screen, rather than through an in-person visit. In fact, according to the National Association of REALTORS®, in 2016 over 44% of buyers started their process by looking at properties online. How a property appears in a photograph is now critical to getting buyers in the door of a listing!
Luckily the main rules still apply – a clean and decluttered room translates better in  a photograph than a messy, chaotic one.  In addition, though, take into account how items are arranged in a room and look at it from a number of different angles.  A garbage can may need to be moved out of the scene or a very bold throw pillow might distract from the overall room.  And, most importantly, consider the lighting.  A beautiful room photographed in dim light isn't going to show well, so turning on all the lights is usually recommended (as well as taking photos during daylight hours).  Taking test photographs before the actual shoot can help catch a number of these possible slip-ups.
There are, obviously, many factors to keep in mind when taking photographs of a home for sale. Plus, the quality of the pictures strongly influences how many buyers come to see your house. So, it is not a job for amateurs! At Coastal Realty, we hire professional photographers with extensive experience in shooting homes to take pictures of our listings.  As one client recently told us, "I looked at the pictures and I couldn't believe the difference in the quality of presentation between yours and the current seller. Your pics were amazing!" (K.G., New Bedford, MA) We use these photos online and in print to market your home at its best. Often we include a floorplan online so buyers can see how their furniture will fit into a room or just to get a better sense of the home's space.
Conclusion
In summary, home staging is extremely valuable in preparing your property for sale, and especially before having listing photographs taken. All of the REALTORS® at Coastal Realty thoroughly review a home before listing it. We then work with the owners on getting it ready for sale. Stories of bribing teenage children not to ruin the newly installed garage door with the hockey pucks, of spouses frantically power-washing siding before an open house, or of an agent delivering the tough news that a pool liner absolutely must be replaced before going on the market reverberate around the office all the time.  What all the stories have in common, though, is that they demonstrate that Coastal Realty agents have the expertise, and work hard with sellers, to make sure a property is ready to meet the sellers' goals.
We hope you enjoyed this blog series on home staging and will come back soon to read additional useful real estate news and tips on our blog!